The Wedding Of Your Dreams
Have the wedding you've always longed for with Beaus and Beauties.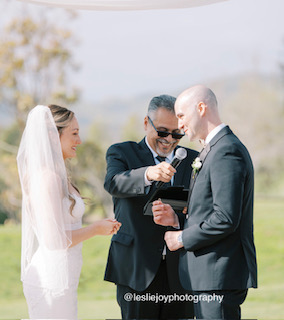 Officiant Services
Learn more about our custom wedding officiant services. Our bilingual Officiant services all of the Southern California area. No matter what you envision for your wedding ceremony, we can bring it to life!
Event Planning
Beaus and Beauties, offer full-service wedding and event planning services that range from month-of coordination to rehearsals and more!
Floral Shop
Here at Beaus and Beauties, we are pleased to offer florals for your special day. Shop our wide selection of florals and gifts online.
About
Southern California Bilingual Officiant and Wedding/Event Planner
Beaus and Beauties, serving Southern California and surrounding areas, is here to ensure your wedding day is special and memorable by creating custom wedding ceremonies that perfectly highlight your unique love story. We work one-on-one with each couple to create the wedding ceremony of their dreams with our professional wedding officiating and planning services. We serve all types of wedding couples, including non-denominational, religious, English/Spanish bilingual, and LGBTQIA+. Contact us today to start planning your special day!
Weddings For All
At Beaus and Beauties, we understand that no two couples are the same, which is why we create completely customized wedding ceremonies that spotlight your one-of-a-kind love. We are a fully inclusive wedding officiant serving the Ventura County, California area. No matter your faith, sexual orientation, beliefs, or traditions, we can create a beautiful wedding ceremony just for you. We offer officiating packages to fit any size wedding, from backyard elopements to large, upscale weddings. We also provide vow renewals, baby dedications, and more!
Contact Us
Contact Beaus and Beauties, serving Southern California and surrounding areas, today to begin planning your wedding officiating services.
---
Testimonials
What Others Have Said
Louie was not just the obvious choice because of his bilingual abilities. He was a calming force, I didnt know I would need the day of my wedding. He was prepared and thoughtful through the wedding planning process. His ability to establish and maintain a rapport with my husband and I throughout the wedding process was appreciated. Louie made an effort to be inclusive for the modern bride. He made some great recommendations for speeches and wedding vows. He gave my Husband and I some great suggestions for union ceremonies, and was flexible in incorporating our wacky ideas in a beautiful way. He also offered services on helping us process our marriage liscense which took an extremely heavy load off of my shoulders on the wedding day. Afterwards he created an adorable clip encompassing some moments from our wedding and shared them to his Instagram for us to view and share with family members.
KIMARA C. 03/08/2023
Louie was amazing!!! He was super professional and made sure everything was running smoothly. I highly recommend him! Stress-free! He also made a rough draft of the ceremony! Super helpful!!
JANETTE 12/20/2022